Here are some of the craft ideas we found online while looking for our own inspiration: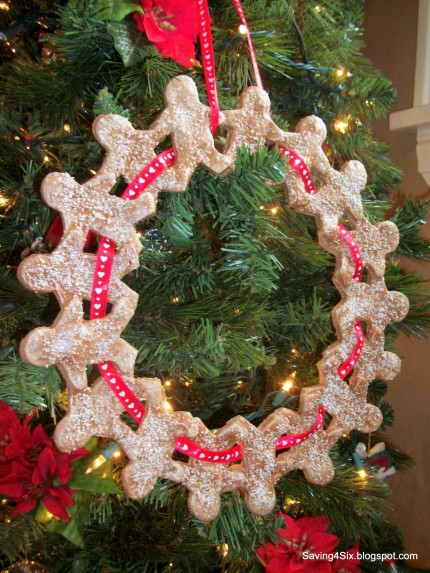 Here's a fun wreath to make for the holidays! Inspired by a martha Stewart design this adaptation is totally adorable and very festive. Get the how to from Saving 4 Six:
Gingerbread Cookie Wreath
.
If you love the Swedish Dala horses popping up all over the web, you'll adore the latest holiday tutorial by
Jenny
of
allsorts
. She uses simple felt applique to add Dala-horse flair to a Christmas stocking.
See her tute
.
Yarn Wreath Ornament
Everyone will enjoy making these adorable yarn
wreath ornaments at
Christopher & Tia
.
via Tangled Happy
Gumdrop Tree
I like this version of a gumdrop tree that uses
a painted tree branch at
The Mother Huddle
.
Playdough and Glitter Ornaments
The Magic Onions
shares these pretty ornaments
made from homemade playdough and glitter.
or

Crochet Chain Wreath Ornament
These adorable wreaths are a great project
for anyone just getting started with crochet - all
you need to know is how to make a chain! Get
the directions at
Tangled Happy
.
Gumdrop Pomander Craft
You can make these adorable gumdrop
pomanders with the directions at
My Blessed Life
.
Rice Christmas Tree Craft
Lilla A
shows you how to make these
simple Christmas tree pictures made from rice.
Three-Dimensional Paper Stars
Visit
Annekata
for a tutorial on how to make
these folded paper 3-dimensional stars!
Maya*Made
created these pretty stars using security envelopes.
Driftwood Christmas Tree
I love this pretty tree made from driftwood
at
Paint Cut Paste
. If you don't have driftwood
just substitute twigs and sticks.
Origami Stars
Visit
Zakka Life
to see how to make
these sweet origami stars. They look beautiful made
from sheet music but you can experiment
with other papers as well.
Treat Bucket Christmas Tree Ornaments
Get the details on how to make these cute
treat bucket ornaments using toilet paper tubes on
Craft Snob
and have fun creating your own versions.
Cardboard Tube Bird House Ornament
Another amazing transformation of the humble toilet
paper tube - miniature bird house ornaments! Find
out how to make them at
That Artist Woman
.
Free Printable for Paper Christmas Crackers